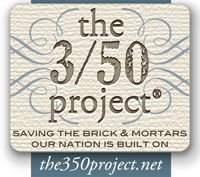 I live in a wonderful area, it is the cosmopolitan New York City to the south, sprawling green spaces and farms to the north and a rich and vibrant history. In between is a combination of small towns, cities and hamlets that each have their own distinctive flavor and feel. Westchester county has a lot to offer, however I have seen more and more small businesses and the identity of a town altered by large companies that move into an area.
I am not against the jobs that larger companies provide. What bothers me is the homogenization of a town taken over by chain stores and the consequence that these chains have to the small business owners. Certainly chains provide savings to customers looking to save any way they can, but surely there must be a way for the small businesses to coexist and thrive alongside the chains.
That is what the
3/50 project
aims to be, a solution to bring attention to and support small businesses. Cinda Baxter, founder and president of the 3/50 project cooked up an ingenious and ridiculously easy equation to help bolster the independent brick and mortar shops. The principle is that if you pick 3 small businesses, and spend a total of $50 dollars each month, that it would boost the local economy and would keep those indie businesses running. The 3/50 project website cites "that if half the population spent $50 a month in locally owned independent businesses, that it would generate $42.6 billion in revenue." There are also great benefits to your community by shopping locally. "For every $100 spent in locally owned independent stores, $68 returns to the community through taxes, payroll and other expenditures. If you spend that in a national chain, only $43 stays locally. Spend it online and nothing comes home."
I know that I am very lucky to have a lot of small independent businesses nearby, maybe you do too. If you do too, think about what businesses you would miss if they were forced to close. The homemade ice-cream shop, the eclectic boutique, the gourmet grocery, or a little book shop. Stop in, say hi and see if there is anything that catches your eye while you are there. After reading about this project, I know I will be buying my dog's food at the independent pet supply shop, I will go into the boutique whose window catches my eye and I will stop into my favorite sweet shop or ice cream place once a month. What makes this project so approachable is how little you have to spend to make a positive impact on your community. I will be trying it and will try to document my small business findings along the way. I hope you will join me. Check out the
3/50 Project website
for more information about the project and what you can do to help.
Best,
Jennifer